Need some fun to brighten up the holidays? Need some heat to warm up the cold nights? Well,this is just the thing. DASHING THROUGH THE SNOW, a sexy, snowy Christmas story by M. Leighton is LIVE!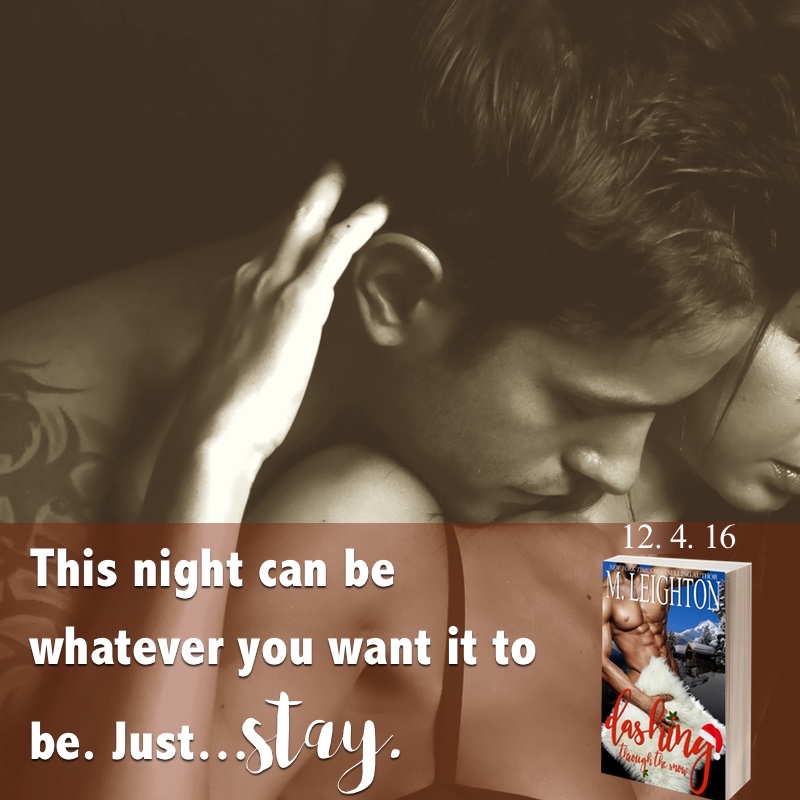 A dash of perfect for the holidays!
Dilyn Hart hates Christmas, so when her boss (and ex-boyfriend) hands her an assignment to interview champion snowboarder and gorgeous playboy extraordinaire, Dash Grainger, on Christmas Eve, she takes it. There are several things she doesn't plan for—a surly driver, a chalet in the middle of nowhere, a freak snowstorm—but the biggest surprise of all is Dash himself.
Dash Grainger lives for the high, and so far in his twenty-six years, he's never met anyone or anything he loves more. Nothing has ever thrilled him as much as slick snow, cold air, and breakneck speed.
But one perfect night doesn't mean clear, blue skies the next day. Some storms can't be weathered.
Christmas might just be one of them.
My goodness does this story spread plenty of warmth
If you're looking for a book to curl up on the couch and read during the holidays, this is definitely it.
DAMN Dash is breathtaking!
He has the confidence of a
King and the body of a God.
He Always gets what he wants!
that hides his woes deep inside.
He knew he had an affect on most women, he just wasn't ready for Dilyn and how she affected him.
Dilyn was a very stong willed woman. She seemed to all put together until she actually set eyes on Dash.
These two had unmistakable chemistry. Leighton didn't disappoint with this angsty short story for the holidays.
She knows exactly how to make it feel like a full blown novel by making the characters so relatable.
The flow was unbelievably smooth!
I love that it wasn't a picture perfect romance and that it
felt like these were my friends.
I hope these two have more to their story down the road.
5BadAssDirtyDeconstructedSmoresStars
GET YOUR DASH OF CHRISTMAS CHEER TODAY!
AMAZON-- http://smarturl.it/DashAMZ
BN-- http://smarturl.it/DashNook
IBOOKS-- http://smarturl.it/DashiBooks
KOBO-- http://smarturl.it/DashKobo
GR-- http://smarturl.it/DashGR
CONNECT WITH MICHELLE
FB: http://smarturl.it/MLeightonFBPage
FB Group: http://smarturl.it/MLeightonFBGroup
IG: http://smarturl.it/MLeightonIG